An Unmatched
Real Estate
Experience
We empower clients for financial freedom through home ownership. Count on us for a fun, successful process with clear communication and no confusion. Sit back and enjoy the real estate experience while we handle the heavy lifting.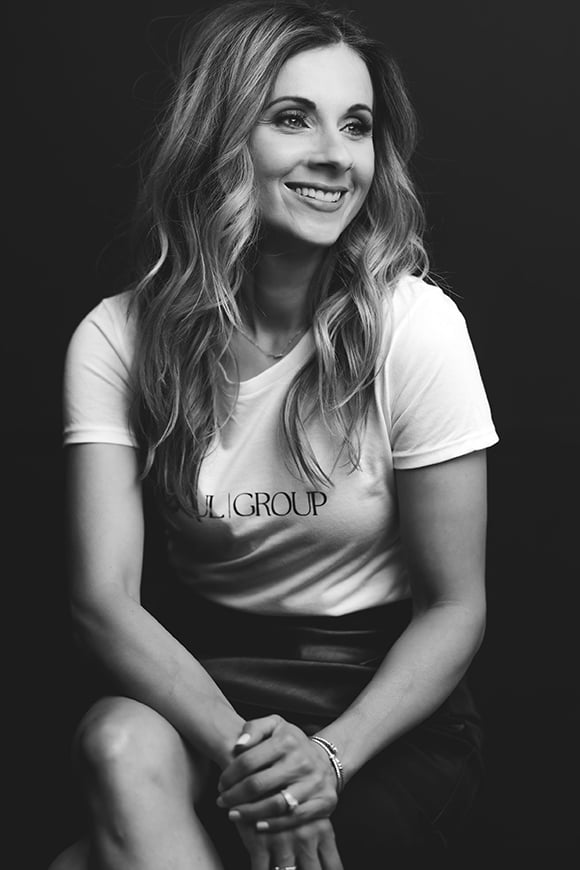 Meet Tina Caul
Introducing Tina Caul, an inspiring realtor and visionary leader with a remarkable two-decade career. As the head of Caul Group Residential, the unrivaled #1 Resale Real Estate Team in The Triangle, North Carolina, Tina's influence in the industry is profound.

Her accomplishments are exceptional, including a coveted top 3 position at eXp Realty out of 90,000 Realtors and earned their spot in "The Thousand", a national ranking program presented by RealTrends + Tom Ferry International and Wall Street Journal. Ranked in the top .5% of realtors nationwide, she consistently sells 130 homes annually, surpassing the national average of 4-6 homes per agent. Under her guidance, Caul Group Residential is on track to sell over 1,000 homes in 2023 alone.

Beyond her sales achievements, Tina shines as a celebrated national speaker and esteemed thought leader. She's shared stages with luminaries like Tony Robbins, Grant Cardone, and Glenn Sanford, captivating audiences nationwide.
Her magnetic presence has graced prestigious publications such as the New York Times and her compelling TEDx Talk has received widespread acclaim, and she earned a nomination in SUCCESS magazine's top 25 most influential leaders.

Tina's impact goes beyond business. As a passionate mentor and coach, she leads the industry's most inspiring mastermind group, getaccess.global — a community of over 1,200 agents and growing. This collective champions collaboration and financial freedom for real estate professionals, making a lasting difference in their lives.

In all her pursuits, Tina Caul embodies the spirit of a true trailblazer, consistently forging new paths. Her commitment to empowering real estate agents serves as an inspiration for the entire industry—one exceptional success story at a time.

Empower. Invest. Achieve. | Join us!
"We've bought and sold real estate three times now with the Caul Group. Can't say enough incredible things about them. They take the stress out of buying and selling a home. Most
…
Read More
professional group we've ever had the pleasure of working with. Day or night they were ALWAYS responsive to our needs and concerns. Thank you Tina, Kelly, and Ashley! You ROCK!"
Read Less
"This team know the Triangle market inside and out. Caul group is a team of the most knowledgeable, experienced professionals around."
"The Caul group has the home buying process on lock! As a first time homebuyer I had heard a variety of stories about the process of finding and purchasing a home (most full of emot
…
Read More
ional rollercoasters and bottlenecks). The Caul Group has the right resources, talented professionals, and positive vendor relationships that allowed me to glide through this process without hiccups. With the support and guidance from Sarah Forth, I went from "hmmm, wonder if there is something on the market for me" to under contract in 5 days and keys in hand after 3 weeks. Nothing but positive reviews - I felt well represented, and properly advocated for, the entire time."
Read Less
"Another fantastic experience with the team at the Caul Group. Professional, knowledgeable and responsive. Everything you need in a brokerage. Highly recommend. Five stars plus!"
"I would highly recommend having Tina as your realtor. She knew exactly how to price and market our house. We had multiple offers within the first week. We sold in the height of
…
Read More
COVID and she and her team were on top of things and make sure all showings people had PPE. Her team was very responsive to every email/text/phone call."
Read Less
"We had a great experience with caul group. Our home search spanned over a year and went in many different directions. Ashley was patient through it all and never took her foot off
…
Read More
the gas. We found our dream house, and the closing process was very smooth. Certainly wouldn't hesitate to recommend!"
Read Less
"Tina and her team were quite literally a beacon of light in what was a truly horrific home buying experience. The property sellers were great to work with but the sloth and incre
…
Read More
dible incompetence of our mortgage company personnel nearly sank the deal more than once. Tina and her team worked tirelessly to keep things moving; going above and beyond time and time again! I'd highly recommend them to anyone!"
Read Less
"Working with my advisor and the Caul Group was smooth and seamless. Our agent was an amazing Realtor and her team supported us from submitting the offer to after closing. Everyone
…
Read More
was extremely responsive and helpful. I'd recommend contacting Caul Group Residential for home season/sale."
Read Less
"The Caul Group did an outstanding job in researching, marketing, listing, selling and ultimately closing our home. After researching on our own, their high volume of real estate sa
…
Read More
les proved they were the team for the job. They have a process and talented people to implement their sales and marketing process seamlessly. Their process would work in any home sale market and maximize the sale price in a hot market, like it exists now. It is Tina's team for sure and she does a great job of leading it. Her team is composed of highly competent professionals. We highly recommend the Caul Group!"
Read Less